317.781.7782
info@pawsitivepartners.com
THE PLACE FOR DOG SPORTS IN INDIANAPOLIS
What is Rally Obedience?
Prerequisites: Knowledge of the following skills: sit, down, heeling basics, a reliable recall, and sit/down stay. We assume your dog knows the basics, can pay attention and follow your commands even with other dogs nearby. In this classes everyone is expected to be sincerely interested in competing in AKC or APDT Rally classes and dedicated to training each week at home.
In this class we teach the needed to carry out the required maneuvers for the AKC Rally signs used in the Novice, Advanced, Excellent and Advanced Excellent competition classes.  Each week you and your dog will learn to complete several Rally courses.  
Getting Started in Rally
A Beginner's Guide to Companion Events
Rally Dogs
Classes
Our Rally Obedience classes meet once a week for 8 weeks/classes and cost $110.00. Our classes meet on Wednesday evenings at 6:00 and 7:45 pm. Email or call for the time and date of our next session.
Jeanne Sherman
Shirley Spall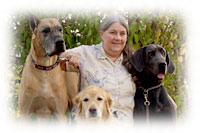 Shirley has been showing Great Danes in Obedience since she purchased her first Dane in 1977. This Dane, Bogart earned both a CD and UD (advanced AKC Obedience titles). From then on Shirley was hooked on dog training.
Over the years she has exhibited and trained her dogs in the Rally, Obedience, Agility, Tracking and the Breed Ring. She earned numerous advanced titles in all of these venues for her Danes, Goldens and Labradors.
Shirley started showing in Rally when it was first a special event. When AKC opened the licensing for judges, she became an AKC Rally judge. Over the past few years she has attended many AKC judging seminars.
She likes to make sure her students are well prepared to go into the show ring knowing all the skills needed to compete successfully in Rally Obedience. She also wants her students to understand the Rally O rules and have the confidence and ability to overcome challenges they may encounter in the ring.
How to enroll in the class
Download, print and complete the enrollment form
Mail it to us among with a check for the class fees
Or bring the enrollment form and check to 575 Main Street, Beech Grove. If no one is there, drop your envelope in the mail slot on your right just inside the door underneath the window.
Dogs/handlers are enrolled on a first received basis
Confirmations will be emailed close to the start date of the class
  Obedience Training Center
  575 Main Street, Beech Grove, IN 46107