317.781.7782
info@pawsitivepartners.com
THE PLACE FOR DOG SPORTS IN INDIANAPOLIS
What is Treibball?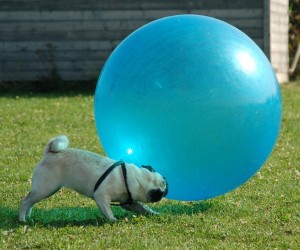 Have a ball with your dog! Treibball (tribe-ball) is a relatively new competitive dog sport. The sport offers a simple to play and train low impact game taught using positive reinforcement. Dogs go out onto a playing field and guided by their handler push eight balls into an area about the size of a soccer goal within a designated time period usually about 15 minutes.
American Treibball Association
Classes
In our multi-level class dogs learn the fundamental skills, perfect these and come to enjoy this sport. Classes are held at the Obedience Training Center in downtown Beech Grove.
This class meets once a week on Mondays at 7:30. From time to time there will be a beginner/ introductory course on Mondays at 6:00. Call for more information.
How to enroll in the class
Download, print and complete the enrollment form
Mail it to us among with a check for the class fees
Or bring the enrollment form and check to 575 Main Street, Beech Grove. If no one is there, drop your envelope in the mail slot on your right just inside the door underneath the window.
Dogs/handlers are enrolled on a first received basis
Confirmations will be emailed close to the start date of the class
  Obedience Training Center
  575 Main Street, Beech Grove, IN 46107